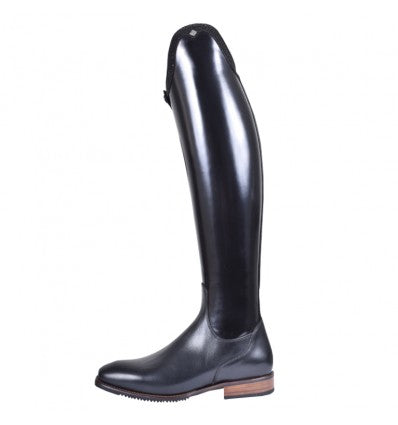 Deniro Bellini Plain With Rondine Top
DeNiro Boot Company is famous for Quality, Style and Innovation in the Equestrian World. Beautiful Custom made and Ready to wear Riding Boots.
The Bellini is the newest dressage model from DeNiro. It is the same design as the best-selling Raffaello model, but with a narrow fitting at the ankle, and features innovative reinforced outer leg materials. This makes the boots more lightweight, and gives a closer contact feel, so it is suggested to those who do not want very hard dressage boots.
The Bellini undergoes DeNiro's unique Water Resistant Advanced Treatment (WRAT). The treated leather still retains it's breathability, allowing sweat to escape, while preventing outside water from seeping in. Vibram anti-slip outer soles keep your feet secure in the stirrups, even in the worst weather.
Extra customisations such as different leather colours and types, and top and toe cap decorations are also avaliable - contact us if you have would like to see more options or if you have something particular in mind!
Please contact me for measurement forms,size and colours
Recently Viewed